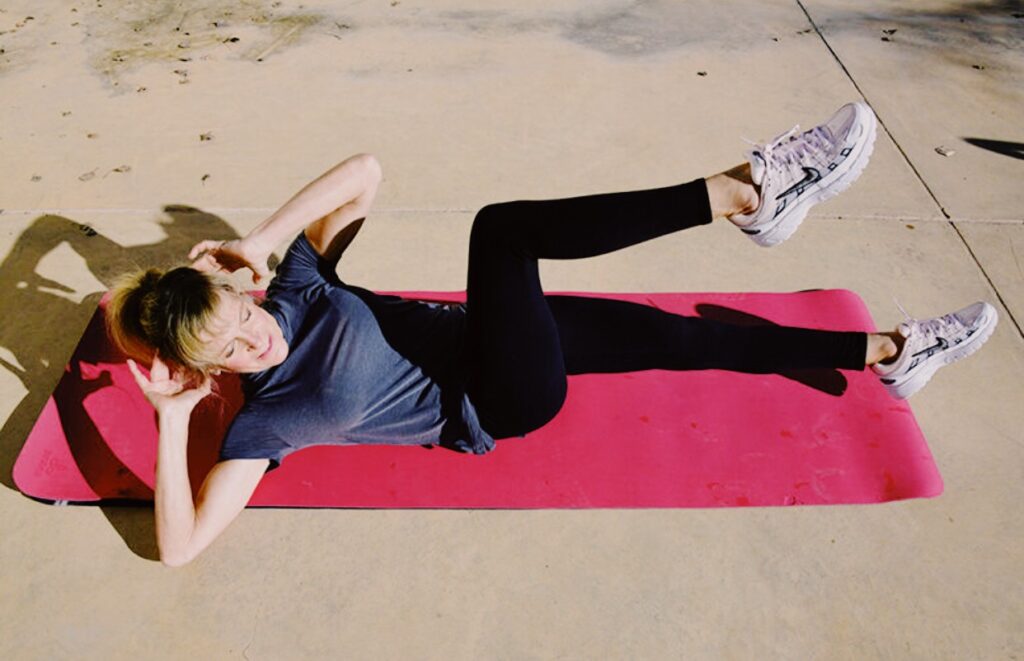 Clients often tell me about their morning sequence to start their days, and I'm always proud that they take care of themselves. A morning core program can help maintain low back health, improve neuromuscular control, spinal stability, movement pattern efficiency, and injury prevention. But any ab or core exercise you choose needs to be effective, and not potentially lead to lower back pain.
A morning program is ideal for two reasons. First it's typically the time in which your body is stiff, cold and most prone to injury. Having a routine prior to your busy day is like doing a pre-workout warm-up: It helps to increase soft-tissue blood-flow, warmth and pliability, facilitates neurological awareness and helps develop a psychological readiness for the day ahead. Second, a morning routine gives us another chance to make our habits stick, and if you miss doing it, you have another opportunity to do it later in the day.
The Bicycle Twist is a big external oblique winner.
If you need a little help in choosing where to start, add Bicycle Twist to your routine, one of the best core exercises. Compared to a crunch, electromyography ( EMG ) shows that this exercise is 9 % more effective at targeting the rectus abdominis and 310 % more effective at targeting the external obliques.
It's an ab exercise that many people know, also known in Pilates as Criss-Cross, and a go-to in yoga class.
Let's include a brief anatomical overview of the ab muscles that this exercise targets. Four abdominal muscles hold the contents of the abdomen in place; the rectus abdominis, aka "six-pack", which stabilize the pelvis and rib cage with respect to each other, transverse abdonimis, a deeper muscle that maintains intra-abdominal pressure, and is not involved in movements of the trunk, and the external and internal obliques that work together to help decelerate the spine as it arches backwards, rotates, and side bends. The external and internal obliques store potential energy, as in a follow-through in a golf swing.
The Most Common Mistake
The Bicycle Twist targets the abs, yet most people do it wrong, and use the hip flexors. Stop using your hip flexors! They are typically stronger than the abs in trunk flexing movements; hip flexors bring the legs and trunk toward each other. Beyond 30 degrees, in the Bicycle Twist, crunches, or sit-ups, the powerful hip flexors begin to take charge of the movement. In real life, they are more likely to be strong, as you use them to create energy to help swing your leg forward in walking and running.
Pilates mat exercise studies using EMG found that the hip flexors in Criss- Cross work at an intensity of 41 %. In other words, when you bring your knee towards your torso, the Criss-Cross, or Bicycle Twist becomes an ineffective exercise for the abdominals. The goal of ab training is to maximize the involvement of the abdominals, and minimize the hip flexors.
Getting it right
Keep your knees at 90 degrees, instead of flexing the hip to pull your knee in toward your elbow. This will give the back extra support and help target the obliques.
Connie Aronson is an ACSM Exercise Physiologist and Corrective Exercise Specialist (TBBM-CES ) Visit her at www.conniearonson.com and Instagram@conniearon
https://www.mtexpress.com/wood_river_journal/features/fitness-guru/article_a62eb6d4-61a6-11eb-bcfb-3f5fb75e1f4c.html