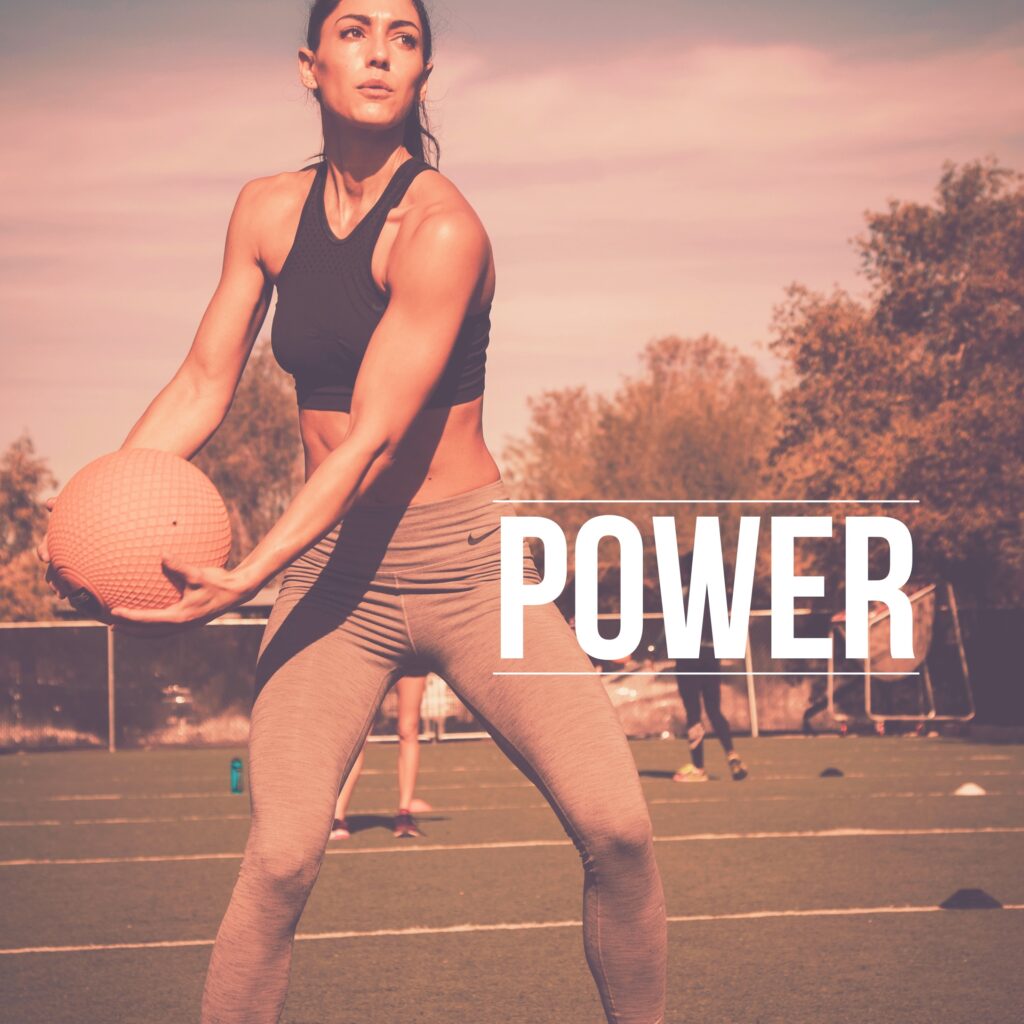 Power is the ability to produce large amounts of force quickly.
For every sport, unless you're an equestrian athlete, or kayaker, your skill starts by your feet pushing into the ground or firm object that returns force back through you.
Plyometric is a quick powerful movement involving pre-stretching that activates the stretch shortening cycle. Plyometric exercises are also referred to as reactive training. The ultimate goal of reactive training is to increase the reaction time of the rate of force production. An explosive tennis serve, better basketball, golf swing, or a faster running gait are all examples of sports in which you could benefit from this type of training. It can also enhance how you react to ground surfaces throughout the day in simple daily activities. Quickly responding to an unexpected change, like ice, when stepping off a curb or rapidly changing direction when walking your dog on a leash are both examples of daily encounters when you'll want to have better reaction time.
We all need vigorous levels of physical activity to maximize bone mass throughout our lives. Incorporating plyometric exercises is also extremely valuable in post-rehab and for a safe return to play.
Plyometrics, in its purest form, are meant to be all-out, quality efforts in each repetition of an exercise. Although commonly thought of as only muscular activity, the nervous system is intrinsically linked. The exercises heighten the excitability of the nervous system for improved reactive ability of the neuromuscular system, a benefit for both pro athletes and the rest of us.
Before incorporating plyometric exercises into your training, it is important to have good flexibility, motor control, core strength, and balance capabilities. If you can't do it slowly, you can't do it fast!
Be proficient in exercises such as step-ups and different kinds of squats before practicing, and start with plyometric exercises that are low intensity. Bounding or footwork patterns are a good place to start. Like hopscotch, they are fun and challenging.
Before any kind of jump, know that landing strategies are crucial. You should land in a partial squat. A partial squat is a position with feet shoulder-width apart and the bodyweight centered over a stable base of support. Bearing weight symmetrically, a stable base of support means that the trunk is relatively upright over the legs (or leg) with slight flexion of the ankle, knee, and hips.
The exercise selection is vast, as you would start with moves that are easy to complex, stable to unstable, body weight to loaded, to activity specific.
Plyometric training isn't only limited to lower body training. Moves such as wall throws plyometric push-ups, or jump-squat with a chest pass are other examples.
Photos in article below~
As published in The Idaho Mountain Express- Fitness Guru
https://www.mtexpress.com/wood_river_journal/features/fitness-guru-add-power-to-your-workouts/article_5f9b3a20-52b5-11ec-b485-87eadcee070c.html