The ability to turn your head, or easily look up should be a movement you take for granted. Yet as we age, neck pain is common. Like the rest of the body, bones in the neck change, as surfaces of them become rougher, and discs that cushion the cervical spine deflate.
Your neck may feel stiff and sore as a result of arthritis and stiffness. A pair of facet joints run down the back of your cervical spine, each lined with cartilage, and surrounded by a capsule filled with synovial fluid. However, as cartilage thins and wears away, there is less fluid. The result is bone-on-bone friction occurring in your facet joints. As well, the discs that cushion the bones of the neck and head lose their plumpness and the muscles, tendons, ligaments, and other soft tissues are compromised.
The multiple muscles of the neck make for a very mobile structure, yet neck pain limits functional range of motion. The neck pain you feel is all too common, being that the neck muscles are hyper-alert to the many pain receptors in this area of the body. Take care of your neck with the following 5 stretches that you can do just about anywhere. 
Child's Pose with extended arms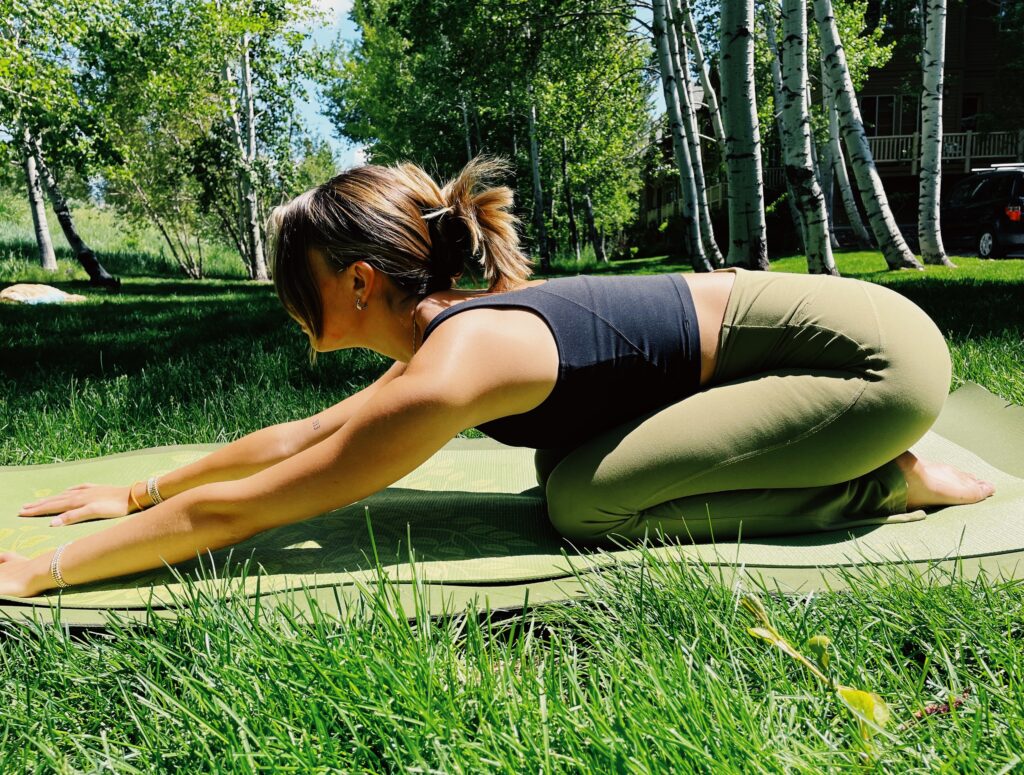 Kneeling, stretch your hands as far away from you as possible. Slowly lift your head to look up towards your hands. Hold for 20 seconds, 2-3 times. This move stretches the neck extensors located on the back of the neck and upper back: semispinalis capitis, semispinalis cervicis, and splenius capitis. Interestingly, the later muscle acts as a glue that holds the head firmly to the neck. The name comes from the Latin words spleniummeaning "plaster" and capitis meaning " of the head."
Neck Extensors Stretch ( no photo, but don't miss this one ! )
This stretch helps release tightness in the neck extensors. Place your hands on the crown of your head, keeping the elbows together. Pull your shoulders down. Gently pull your chin to your chest to feel the stretch in the back of the neck and shoulders. Hold for 15-20 seconds; 2-3 cycles at least once a day.
Trapezius Stretch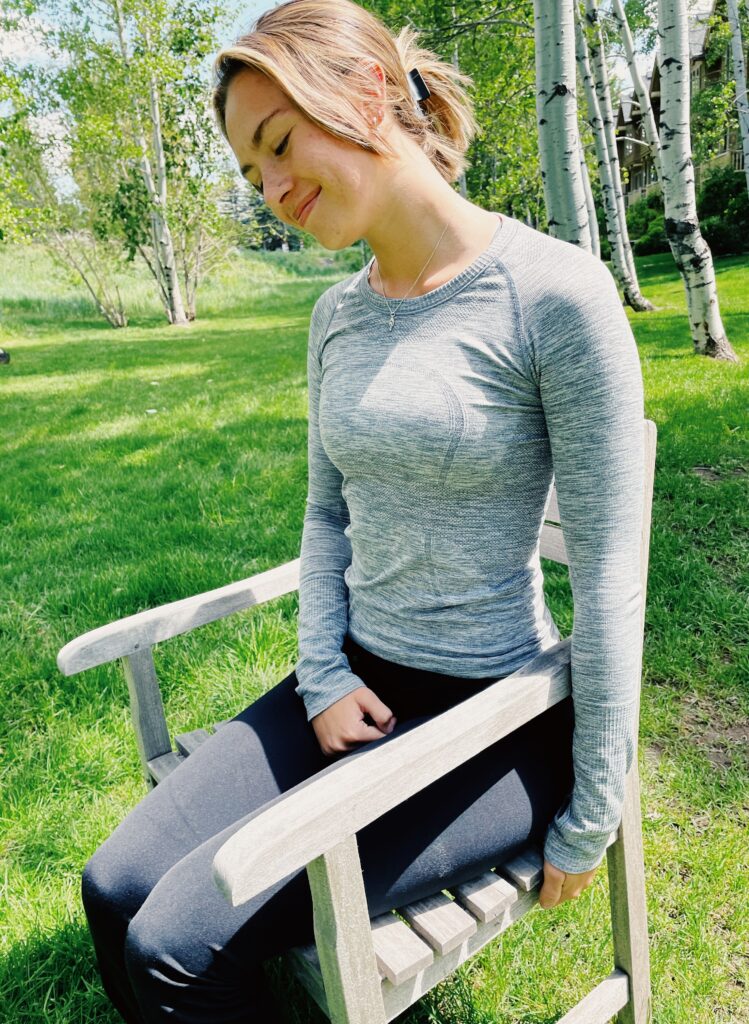 1.Using a chair: Sit tall on a chair and firmly grip the seat. Slowly bend your neck away from your hand grasping the chair. Engage your lower traps and rhomboids (middle back ) to help pull the shoulder into correct alignment.
2. Standing, drape a band across the top the shoulder, keeping tension on the band. Slowly bend your neck away from the banded shoulder, Hold for 15-20 seconds at least 1x day, preferably 2-3 a day.
Neck Turn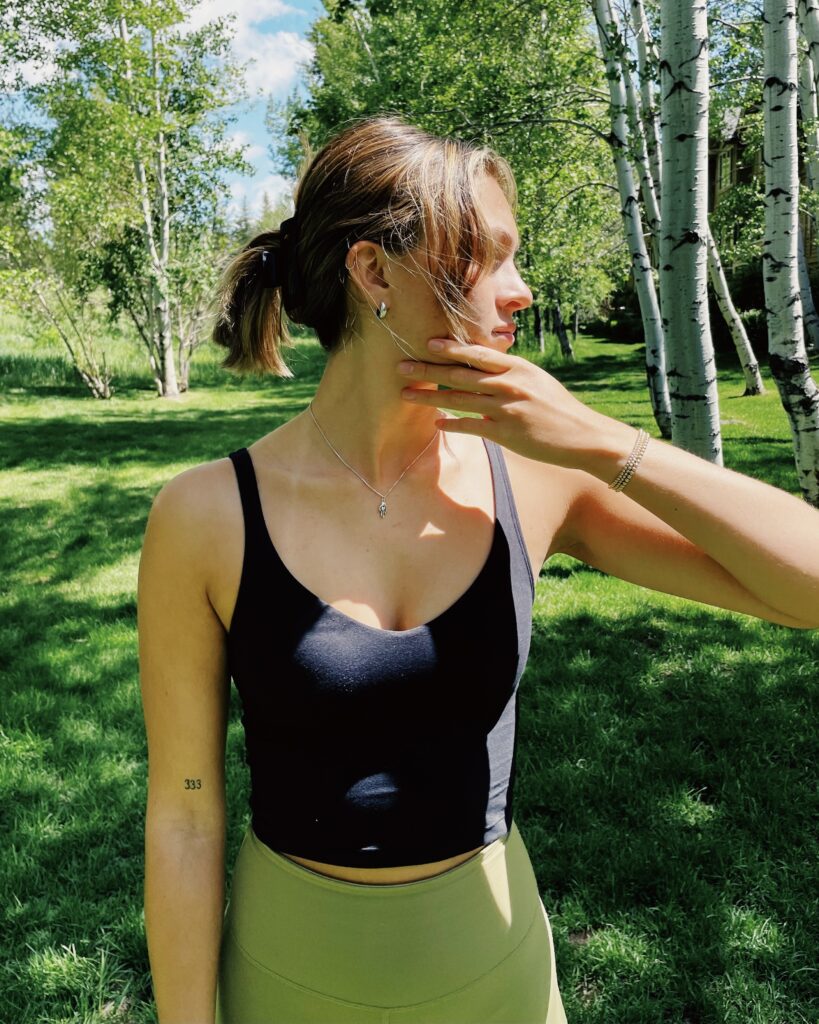 Place your first 2 fingers horizontally along your jaw. Using your hand to assist, turn your head to one side. Hold 15-20 seconds. Repeat 2-3 cycles. Repeat the stretch going the opposite direction.
Check out my column in Idaho Mountain Express !
https://www.mtexpress.com/wood_river_journal/features/fitness-guru-the-best-way-to-get-rid-of-neck-pain/article_467c245a-ed2e-11ec-ae97-b3b068199910.html