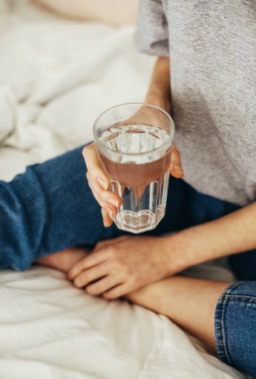 If you forget to bring a water bottle to work, you are not alone. I have clients that always come to their workouts with water, and clients that never do. There's no definitive answer as to how much water you need, but many of us aren't drinking enough of it. While guidelines vary, generally women need between six to eight cups, and men need approximately eight to 12 cups. It depends on many factors, including your health, how active you are and where you live.
Water makes up approximately 50-70% of our body weight. It keeps our temperatures normal, cushions joints, protects our spinal cord, flushes bacteria from the bladder and carries nutrients and oxygen to our cells. Getting enough fluids also normalizes blood pressure and stabilizes the heart. It's important to stay hydrated, as everyday we lose water through breathing, sweating and peeing.
New studies by researchers at the National Institute of Health suggest that staying well hydrated not only supports essential health, but may also reduce the risk of heart failure or long-term risks for heart disease. Heart failure is a chronic condition that happens when the heart does not pump enough blood for the body's needs.
Approximately 11,814 healthy adults were in the final study. Of those, 11.56% later developed heart failure. To assess possible links with hydration, researchers analyzed levels of serum sodium. Serum sodium increases as the body's fluid levels drop, and helped identify older adults with an increased risk of developing either heart failure or left ventricular hypertrophy, an enlargement and thickening of the heart. Higher serum-sodium levels at middle age showed a 102% increased risk for left ventricular hypertrophy and a 54% increased risk for heart failure.
All beverages, even coffee or alcohol, contribute to hydration. A Harvard Medical School Special Health Report notes that it is a myth that caffeinated drinks or alcohol are dehydrating because they make you urinate. They do, but over the course of a day, the water from these beverages still lead to a net positive contribution to total fluid intake.
Of course, water is still the best option, as sugary drinks can lead to weight gain and inflammation. Caffeine, for some, can give you the jitters or keep you from sleeping. And alcohol intake, research suggests, should be limited to one drink per day for women, and one-to-two drinks per day for men.
You can also get fluids from water-rich foods, such as salads and fruit. Aim to have water throughout the day and water at each meal, as well as socially.
Remember that thirst is not an indicator of hydration. Signs that you are dehydrated are less frequent urination, dark-colored pee, fatigue, confusion or dizziness. Drink for health.
Published April, 23, 2022 in the Idaho Mountain Express
https://www.mtexpress.com/wood_river_journal/features/fitness-guru-drink-more-water-for-a-strong-heart/article_21fb3812-c125-11ec-9bb7-8bc8b47bd18b.html