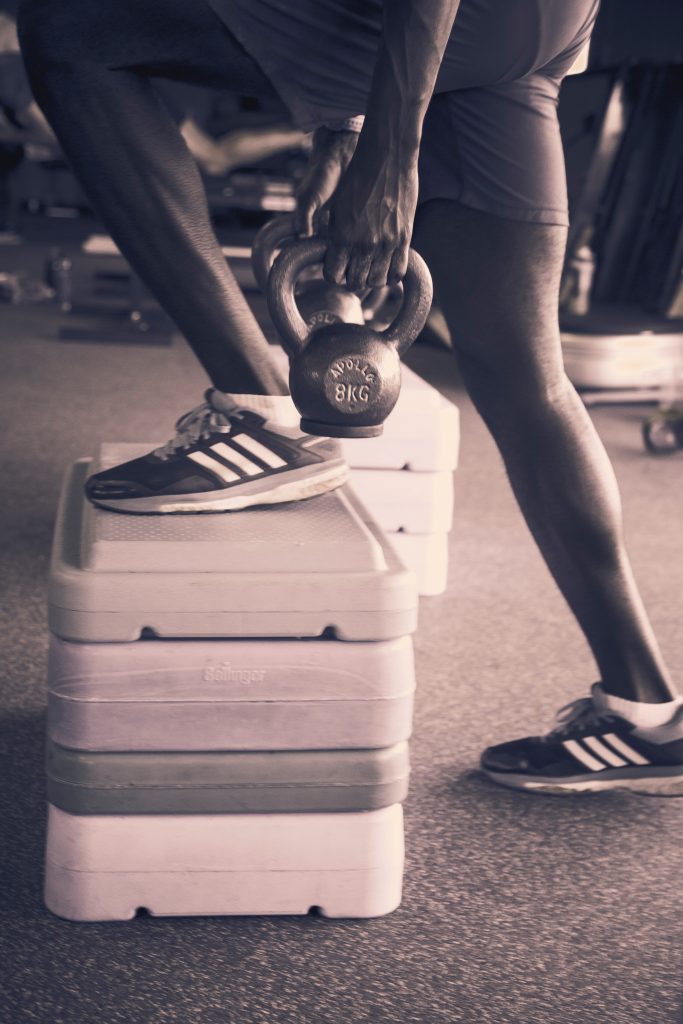 The best exercise programs don't have to be complicated to be effective, but you need a plan. It's not uncommon to see someone in a gym pick up a set of dumbbells, half heartily knock out a few biceps curls, and call it a day. When it comes to strength training, you need is a safe, simple and effective resistance-training program that you can perform at least twice a week.
At any age, strength training increases the amount of muscle and bone density. As we age, it helps boost our energy and vitality, and helps to prevent and treat chronic diseases as arthritis and osteoporosis. For men and women, strength training, or resistance training, helps you achieve a more toned appearance, and contributes to maintaining independence in performing activites of daily life. It improves your balance and coordination, and helps reduce your risk of falling. Strength training allows for a sense of pride, capability, and confidence for older adults. However, you want to ensure that your time in the gym is worthwhile and what you do in your time there transfers to your daily living. If there is one aspect of aging that you can control, it is strength training.
 Get with the free weights
If your workout consists of using only machines, you might want to consider adding free weights, or the suspension trainers. Research shows that functional strength increases over 57 percent in machine-trained individuals, compared to 115 percent in free-weight groups.
Functional training is a popular buzzword in fitness programs and is used to help design effective programs. The dictionary defines the word functional as " of having activity, purpose, or task or, alternately, " designed to be practical and useful, rather than attractive." With regard to what you do in your workouts, functional training is all about positive transfer to your goals, which is the purpose of training, says Nick Tumminello, owner of Performance University, author and educational provider for fitness professionals worldwide.
Functional training is described as the ability to produce and maintain a balance between mobility and stability along a kinetic chain while carrying out fundamental patterns with accuracy and efficiency. Greater results are seen in movements taking place in three-dimensional spaces, which is where free weights come in. For example, you might step-up onto a step or bench holding weights, rather than simply use a seated leg machine for leg strength. Both exercises are valuable for enhanced performance, and each offer unique training benefits. However, training in a three-dimensional space, as in a box step-up exercise, is important because for one, you are standing up, which is what we do in life, and also involves mobility and stability, which contribute to good movement skills.
You want your workouts to include the basic movements that you do in daily life: squatting, lunging, pushing, pulling, and rotating.
Little tweaks and offset positions.
Repeatedly doing the same exercise the exact same way can place repetitive stress on the joints, muscle, and connective tissue.  In a squat, for example, try an offset staggered or a narrow stance in a set. (A set is a group of consecutive repetitions.)  By changing or tweaking the position of major joints like the hips and knees, you help dissipate stresses to the connective tissue. Changing hand positions in upper body exercises also helps reduce overuse injury to the shoulder joint.
Helping Aging Bodies.
If you're over 50 and have unavoidable age-related changes, or chronic conditions, you can still gain skills so you don't rely solely on exercise machines. Here are some fixes so you can do some great functional exercises:
Crunches. Put a pillow behind your head if your neck flexors are long and weak.
Push-ups. Instead of regular push-ups where you feel like you hunch your shoulders, or to avoid too much weight-bearing to already sore shoulders, lay flat on your stomach, with palms on the floor and elbows back. Press through your palms. Or do push-ups against a wall.
Plank. Elevate your shoulders higher than your toes by placing your forearms on a bench or chair.
Balance. Stand on one foot. Lift your other knee up towards your chest.  Open the leg using your thigh and knee, back a forth 8 times, like a windshield wiper, to challenge your center of gravity.
Keep your program safe and  simple to stay young and strong, your way.
https://www.mtexpress.com/wood_river_journal/valley_people/fitness-guru/article_fd243020-3e79-11e8-8d77-0beb68f12809.html