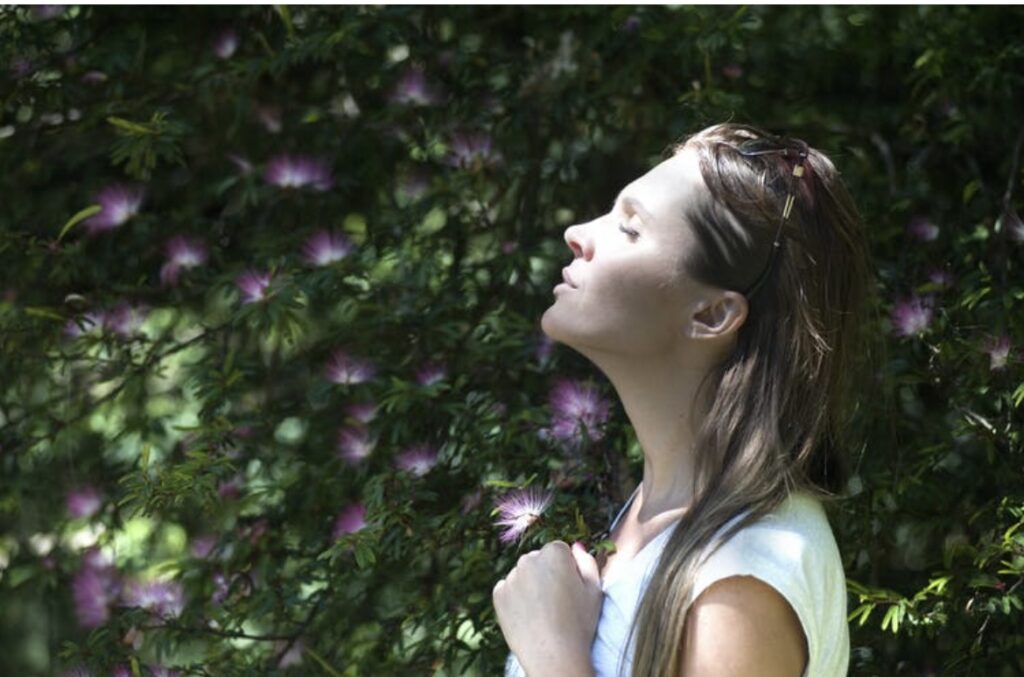 Think of a time when you felt anxious and stressed. Stress is impossible to avoid; bills, job demands or challenging relationships all contribute to taxing your nervous system. But the easiest and quickest way to calm your mind is to simply breathe in and out.
When you breathe deeply, you refresh your mind and improve your lung function. The simple act of inhaling and exhaling decreases the sympathetic nervous system response and leaves you feeling more relaxed.
Worry and stressful situations can trigger a cascade of stress hormones that make the heart pound and muscles tense, known as "fight or flight." The National Cancer Institute describes it as a group of changes that occur in the body to help a person fight or take flight in stressful or dangerous situations. This is the body's way of helping to protect itself from possible harm. During fight or flight, certain hormones, such as adrenaline and cortisol, are released into the blood. This causes an increase in blood pressure, heart rate, and breathing. Other changes include an increase in blood sugar, alertness, muscle tension and sweating.
Fight or flight served us well on the savannah, but on a daily basis we can't be continually running from tigers. The simple act of breathing with focused intent can help you relax and feel better.
At rest we only use about 20% of our lung capacity and barely utilize the muscles of our breathe. The American Lung Association indicates that when the diaphragm is not working at full capacity, the body starts to use other muscles in the back, neck and chest for breathing. This means that there is less reserve for exercise and activity, and lower available oxygen levels.
So, how do you take a deep breath?
Although many people feel a deep breath comes solely from expansion of the chest, chest breathing (in of itself) is not the best way to take a deep breath. To get a full deep breath, learn how to breathe from the diaphragm while simultaneously expanding the chest.
Yoga teaches that by breathing this way: a vertical extension, a horizontal expansion and a circumferential extension of the rib cage, chest and lungs shows that the lungs are being filed to their maximum capacity.
Breath is life. Yoga teaches that breathing is a prayer of gratitude we offer to life itself. B.K.S Iyengar, one of the most influential yoga teachers in America, compares leaves moving in the wind to how our mind moves with our breath. When your breath is regulated, there is a neutralizing effect on the mind. Activating the deep breath will decrease your parasympathetic nervous system and leave you feeling more relaxed and in control of your emotions.
It's not only yogis who know the benefits of remaining calm and focused by practicing breathing. Navy SEALS use controlled breathing techniques in their military training programs as a valuable tool for their soldiers. Facing crisis, high pressure and uncertain circumstances, one of techniques the SEALS use is easy to learn and powerful, called box breathing.
Box Breathing
Sometimes referred to as square breathing, box breathing is a practical technique to start with. You can practice it anywhere and at any time; however, it's best to sit in a comfortable chair with your feet on the floor, or lying down, to learn. Try to tune out extraneous sounds, as you close your eyes and listen to your breath. Notice the natural rhythm of your breathing for a few cycles. Now you are ready to begin your box breathing.
Breathe out slowly, releasing all the air from your lungs.
Breathe in through your nose as you slowly count to four in your head. Be conscious of how the air fills your lungs and stomach.
Hold your breath for a count of four.
Exhale for another count of four.
Repeat steps 1 to 4 for three to four rounds.
For visualization, while you are box breathing, imagine as though the box is being traced by a colored crayon or imaginary marker. For each of the four lines you draw, switch colors of the box's outline. For meditation, you can add an affirmation, such as "I am relaxed," as you breath by syncing it with your breath, rather than counting.
Continue practicing your breathing technique whenever you think of it. Your breath is always with you, as is life itself. 
https://www.mtexpress.com/wood_river_journal/features/fitness-guru-power-breathing/article_936765b2-d77c-11ec-bc26-ff6932a5d3ee.html