We all want to enjoy a healthy work-life balance and have more energy throughout the day. Regardless of your age, the habits of daily living become more important, whether you are in your 40s or 60s. The body, however, has an agenda of its own, and presents unforeseen challenges. You start to notice signs of arthritis; joint stiffness first thing in the morning, knee buckling, or clicking or popping sounds in your joints.
Osteoarthritis is the most common form of arthritis; it often emerges slowly and affects everyone differently. Stiffness for a short period of time after a long road trip, too much sitting, or limited reach are indicators of the condition. Women are more likely to develop it, and there is a genetic component to the disease. Osteoporosis used to be thought of as simple wear and tear of tissue. The Arthritis Foundation opines that it is now known as a degenerative disease of the entire joint, including bone, cartilage, ligaments, and the synovial fluid that lubricates the joint.
Though it is more common in individuals over 50, much younger people can also develop osteoarthritis (OA), usually the result of a joint injury, like a torn ACL, cartilage or bone fracture. After such an injury, it can develop within just a few years. Other factors that can contribute to osteoarthritis are overuse, using the same joint over and over in a sport or job, or excess weight. But the good news is that osteoarthritis isn't a normal process of aging, and some people never even develop it. If you are willing to include daily habits, like getting plenty of exercise, and stretching, you can stay ahead of arthritis and pain.
There is no cure for osteoarthritis, and anti-inflammatory and pain medications can help manage pain. A nondrug therapy, like moving and regular exercise is an imperative part of your treatment plan.
One of the best ways to manage OA is through moving more and regular stretching. Stretching not only feels good, but it will help increase limited range of motion. Here are four essential stretches to energize the entire body and increase your mobility, no matter your age.
Spine Extension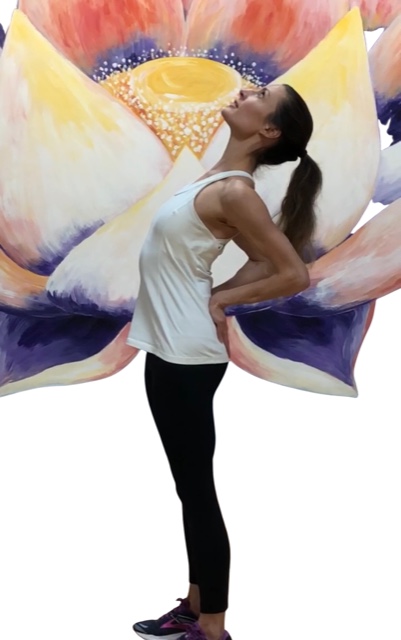 Spine Extension
Photo courtesy Connie Aronson
• Place your hands firmly on your lower back, fingers pointed downward.
• Gently arch the upper back by lifting your ribs. 8 repetitions
Figure 4 Stretch on wall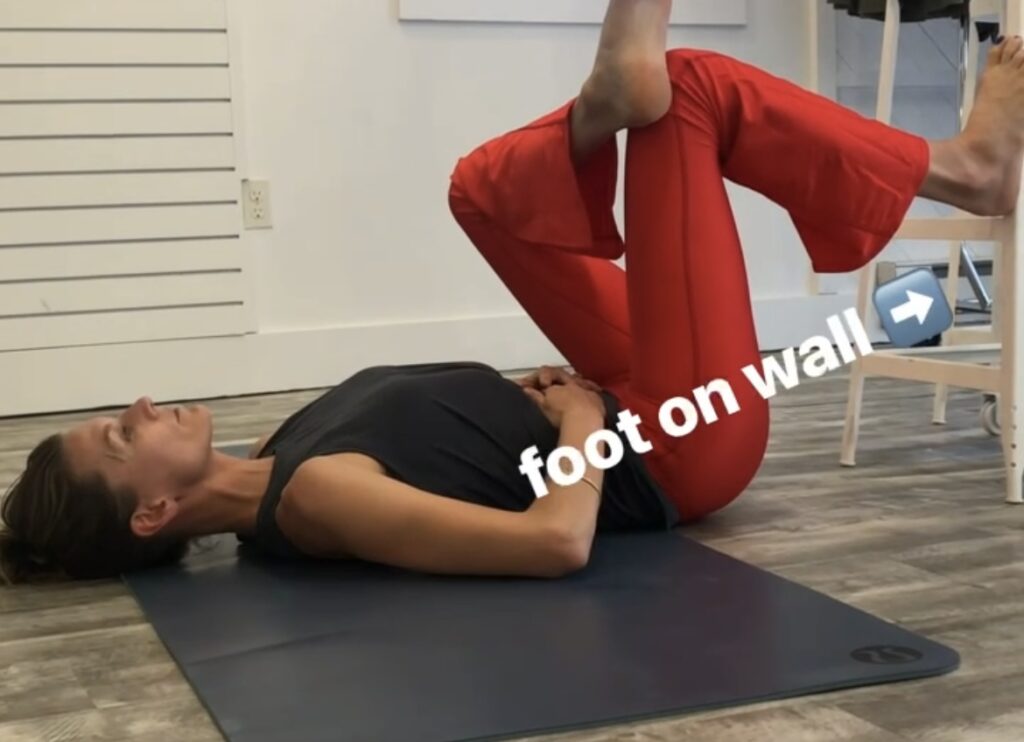 Figure 4 Stretch on wall.
Photo courtesy Connie Aronson
Benefits: Releases tension in the hips and groin
• Place one foot on a wall, head resting on the floor or a pillow
• Cross one ankle over the opposite leg
• Feel the stretch in your outer hip and inner thigh
• Hold for 1 minute each side
Side-lying quad stretch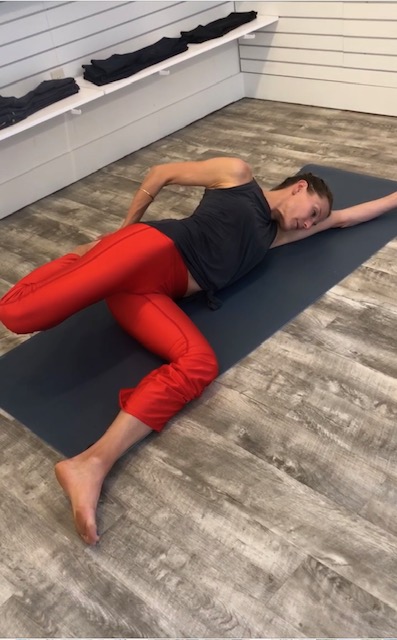 Side-lying quad stretch.
Photo Courtesy Connie Aronson
Benefits: Stretches the hip flexors and quadriceps
• Start on your side
• Using your hand or a strap, pull your heel up toward the buttocks
• As you bring the knee back, gently rotate the pelvis under
• Hold for 1 minute each side
Reclining Twist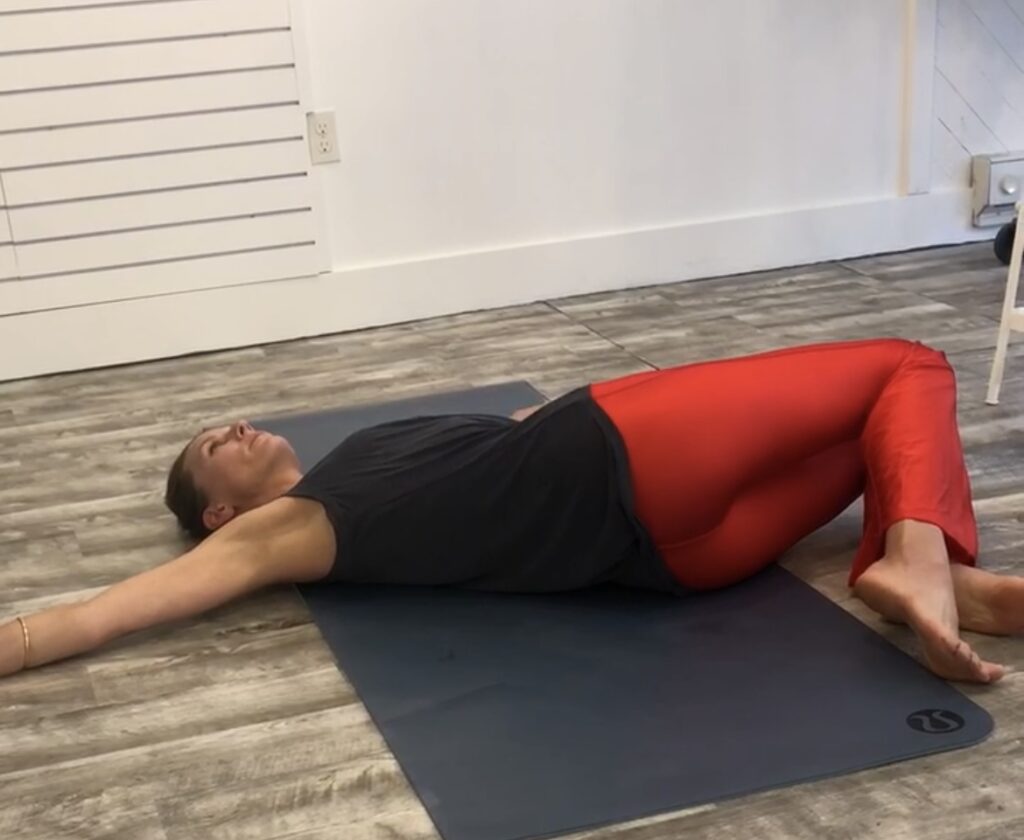 Reclining Twist
Photo courtesy Connie Aronson
Benefits: Stretches, rotates and relieves tension around the belly, chest, shoulders, hips and spine.
• Start on your back with your legs bent, feet together
• Bring the knees towards your chest. Flatten your sacrum, and lower back, and settle the shoulder blades under so your back is comfortable
• As you exhale, take your legs to the right
• Let them descend toward the floor
• Experiment with moving the knee closer to your head, or your feet, or turn your head to gaze toward the left hand.
• Repeat on the other side. 3-4 repetitions
https://www.mtexpress.com/wood_river_journal/features/fitness-guru-4-stretches-to-stay-ahead-of-aging/article_9c5617ba-f4e8-11ed-ba58-a351f6d58462.html